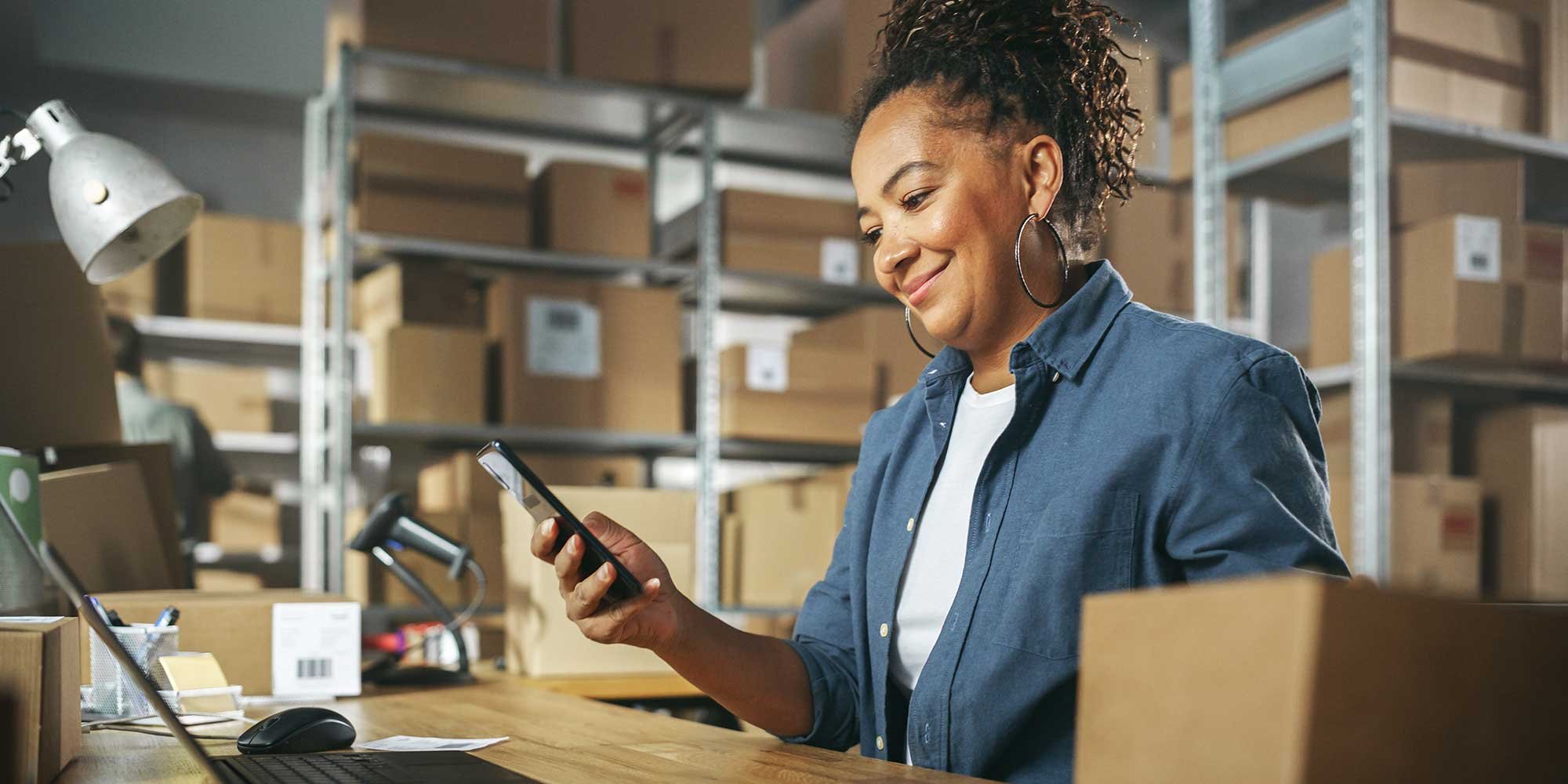 8 Benefits of Opening a Small Business Bank Account
Running a small business is a big responsibility. As a small business owner, you are likely to fill multiple roles on any given day. At one moment you may be acting as a business bookkeeper and the next, you're running human resources or closing a sale.
At Select Funding, we partner with small businesses to provide them with the affordable working capital they need to keep their businesses running and meet their growth goals. Part of our mission involves providing guidance and advice when we're asked.

One topic that we frequently discuss is the issue of when (and why) to open a small business bank account, something that's often asked by start-up businesses and solo entrepreneurs. Here are eight benefits of opening a business bank account plus some information on what you need to open an account and which features to look for.
How Does a Small Business Bank Account Work?
Small business bank accounts work in the same way that personal bank accounts do. Businesses may have a checking account or a savings account that they use to collect payments, pay bills, and track their cash flow.

The primary difference between personal and business bank accounts is that a business account is used exclusively for business purposes. Even solo entrepreneurs can benefit from having a business bank account because such an account makes it easy to separate business finances from personal finances.

In many cases, business bank accounts have the same features as personal accounts. For example, it's common for business checking accounts to come with a debit card that can be used to make purchases or withdraw cash, and mobile banking features. They may also come with business features such as merchant services that make it possible for you to accept credit card payments.

Small business checking and savings accounts may be linked to simplify the process of transferring money. Just as you would with a personal account, you'll receive a monthly statement showing all account activity. As a business owner, you can use your statements to balance your checkbook and make necessary journal entries.
Why Should You Open a Business Bank Account? 8 Benefits to Consider
There are many advantages and benefits to opening a business bank account. Here are eight to consider.
#1: It's Easy to Categorize Expenses
Business bank accounts come with features and tools to help business owners keep track of their finances. These include options to categorize your business expenditures to make it easy to budget and track your spending.

Categorizing your expenditures can make it easier to file your taxes because many expenses may also be tax deductible.
#2: You Can Improve Your Business Credit Score
Having a good business credit score is essential. Any business that needs to obtain financing will find it easier to do so with a decent credit score and more difficult with a credit score that's lower than average.

When you use a business bank account, you can take advantage of automatic payments and transfers to make sure you pay your bills on time. It may be difficult to build good business credit if you don't have a dedicated business bank account.
#3: You Can Separate Personal and Business Finances
One of the most important benefits of opening a small business bank account is that you can use it to separate your personal finances from your business finances. It's common for entrepreneurs and sole proprietors to mingle personal and business money but it's not something we recommend.

Having a separate business bank account minimizes the risk that you'll miss a business expense (or deduction) because you can't distinguish it from a personal expenditure. It also makes it easier to avoid mistakes on your taxes.
#4: It Protects Your Personal Identity
Business owners and businesses sometimes get sued and when that happens, it's best if there's a shield between your personal finances and your business finances. With a separate bank account, your personal finances are not linked to your business.

Keep in mind, though, that if you're a sole proprietor you could still be on the hook personally if you get sued. The best option is to choose a business structure that shields you from personal liability.
#5: It Looks Professional and Legitimizes Your Business
It doesn't look professional to have customers or clients send money to your personal bank account or to remit payment to vendors and suppliers with one. Having a dedicated business bank account adds immediate legitimacy to your business.

It's also worth noting that if you should get audited by the IRS or your state taxing agency, it will be easy to provide necessary documentation with a separate bank account. Mingling accounts is not ideal and may prolong an audit and even lead to problems with the results.
#6: It Simplifies Taxes
Filing taxes is an obligation that takes time and attention to detail. With a business bank account, you can categorize expenses as mentioned above. You can also get access to reports and other tools that simplify the process of filing your taxes.

When tax time rolls around, your business bank statements can provide you with all the information you need to report your income and expenses and take advantage of tax credits and tax deductions.
#7: It Makes It Easier to Obtain Business Financing
Many lenders, including banks and credit unions, require businesses to open a business account before they can apply for small business financing, including loans and lines of credit. If you already have an account, it will be that much easier to get the working capital you need.

Business bank accounts simplify the process of applying for financing, too. For example, Select Funding offers small business financing based on business receipts and we require three months of business bank statements for approval.
#8: It Can Help You to Scale Your Business
Business growth is a priority for most companies and having a business bank account provides you with the tools you need to accommodate growth.

Managing multiple transactions with a personal account may be challenging, but the features of business bank accounts make it simple to send and receive money, create reports, and get the information you need to track your business expansion.
What Do You Need to Open a Small Business Bank Account?
Now that you understand the advantages of opening a small business bank account, here's an overview of what you will need to open an account:
Proof of identity.

You'll need a photo ID and your legal business name and address to get started.

A Social Security Number (SSN) or Employer Identification Number (EIN).

If you're operating as a sole proprietor, you can use your Social Security Number on your business bank account. For any other business structure, you will need to apply for an EIN and use that to open your business bank account.

Your business formation documents.

The necessary paperwork will depend upon your chosen business structure. For example, for an LLC you'll need an operating agreement; for an S Corporation, you will need articles of incorporation and other documents.

Ownership agreements.

Ownership agreements are necessary for certain business structures such as LLCs and partnerships. They lay out who owns what and are necessary to avoid disputes over money in the business bank account.

Business license.

Most businesses require a license to operate. You'll need to present a copy of your business license to prove that your business is legitimate and operating within the law.


With these documents in hand, you can open a small business bank account quickly and begin using it to manage your business finances.
Where Can You Open a Small Business Bank Account?
There are three main choices when it comes to where to open a business bank account. You can choose to go with a national or local bank, a credit union, or even an online bank.

Many banks and credit unions allow businesses to open accounts online or using a mobile app. You'll need to submit the necessary paperwork and complete an online application to get started.
What Features Are Important in a Business Bank Account?
Here are some features that you may want to consider when evaluating your business bank account options:
Affordable fees.

You should make sure you understand any fees attached to the bank account. These may include monthly fees, overdraft fees, and any minimum balance requirements.

Interest or dividends.

Business savings accounts and some business checking accounts allow companies to earn interest on their deposits. There's a lot of competition, so look for a financial institution that pays generous interest. If you opt for a credit union, you'll likely be shopping for dividend payments instead of interest.

Business banking tools.

Business bank accounts typically come with some features and tools that aren't available with personal accounts. These may include mobile banking options, tax documents, and even payroll services.

Merchant services.

If your business needs or wants to be able to accept credit card payments, you should look for a business bank account that will allow you to do so for a reasonable charge.

Business debit or credit cards.

Most business checking accounts come with a debit card but you may also wish to link a credit card to your bank account. If you have a large business, you should also ask about business credit card programs, so you can provide your employees with cards as needed.
We suggest asking any bank or credit union if they have an introductory offer for businesses. Some may offer high dividends or waive minimum deposits for new accounts, so make sure you ask to take advantage of any available deals.
Get the Business Financing You Need
Having a dedicated business banking account can help you keep track of your business finances, manage your cash flow, and apply for necessary business financing to fuel your business growth. Doing a bit of research will help you find an account with the features that are ideally suited for your needs.

Does your business need working capital to grow? Select Funding is here to help! Click here to learn about our affordable small business financing and start the application process today.